Sejarah Singkat
Universiti Utara Malaysia (UUM) adalah universitas negeri ke enam yang secara resmi didirikan pada 16 Februari 1984. UUM juga satu-satunya Universitas yang ditetapkan untuk spesialisasi bidang manajemen sejak awal pembentukannya. Sebanyak 13 buah Fakultas digabungkan menjadi 3 buah kampus akademik. Kampus akademik ini terdiri dari College of Business (COB), College of Arts and Sciences (CAS) dan College of Law, Government and International Studies (COLGIS). Para mahasiswa akan ditempatkan di 15 Dewan Penginapan Pelajar (DPP). 15 DPP ini mampu menempatkan hampir 20.000 orang mahasiswa. DPP ini diberi nama menurut perusahaan-perusahaan, lembaga dan organisasi terkenal di Malaysia yang turut bekerja sama dan menyumbang untuk pengembangan universitas ini. Perusahaan/lembaga/organisasi tersebut terdiri dari MAS, Tenaga Nasional Berhad, Tradewinds, Petronas, EON, MISC, Sime Darby, BSN, Telekom Malaysia, Proton, Maybank, Yayasan Al-Bukhary, Bank Muamalat, Bank Rakyat dan SME Bank. Satu keunikan universitas ini adalah kebanyakan fasilitas yang ada disana terbuka untuk umum.
Selain itu, UUM juga menyediakan fasilitas akomodasi yang nyaman untuk wisatawan yang berkunjung ke sana yaitu di Universiti Inn dan EDC Hotel. Universiti Inn terletak di samping DPP yang dapat disewa selama liburan semester. UUM juga menawarkan akomodasi kelas hotel yaitu EDC-UUM yang terletak dekat pintu masuk utamanya. UUM telah memajukan sebagian kawasan hutan seluas 107 hektar sebagai salah satu atraksi pariwisata di wilayah utara dengan menciptakan beberapa fasilitas seperti lapangan golf 9 lubang, sirkuit karting internasional, area perkemahan, lapang sasar menembak dan memanah, taman rusa, pusat berkuda dan sebagainya
Universiti Utara Malaysia adalah pusat pendidikan manajemen berkualitas tinggi dan pusat sumber daya utama dalam studi manajemen. Lulusan kampus ini bisa bersaing secara International maupun menjadi Wirausaha handal yang berilmu.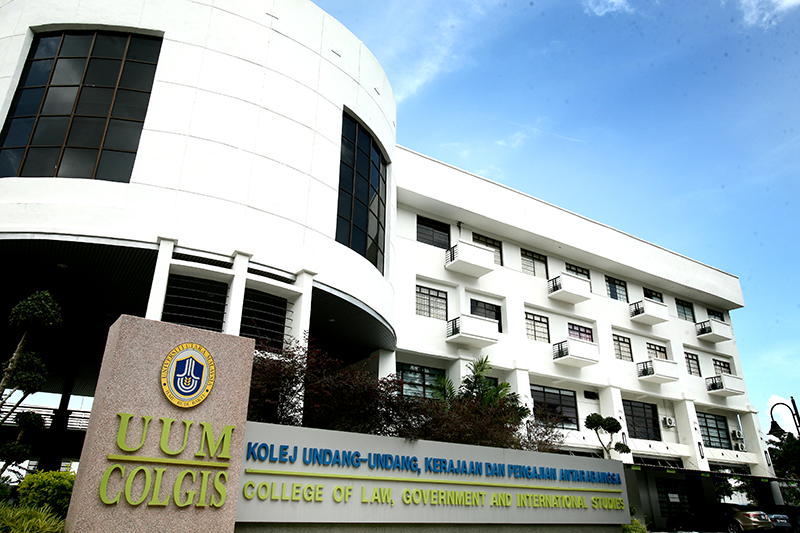 UUM Othman Yeop Abdullah Graduate School of Business (UUM OYAGSB)
Master of Science (International Accounting)
Master of Science (Management)
Master of Science (Finance)
Master of Science (Banking)
Master of Economic
Master of Human Resource Management​
Master in Islamic Finance and Banking
Master of Business Administration (MBA)
Doctor of Business Administration (DBA)
Doctor of Philosophy (Ph.D)
UUM Ghazali Shafie Graduate School of Government (UUM GSGSG)
Master of Arts (International Relations)
Master of Arts (Nationhood Studies)
Master of Arts (Political Science)
Master of Arts (Sociology)
Master of Commercial Law
Master of Corporate Law
Master of Human Resource Law
Master of LawMaster of Public Management (MPM)
Master of Science (International Business)
Master of Science (Strategic Studies)
Master of Science (Tourism Management)
Doctor of Philosophy (Ph.D)
UUM Awang Had Salleh Graduate School (UUM AHSGS)
Master in Applied Linguistics – School of Education and Modern Languages
Master of Arts (Contemporary Malay Language Studies) – School of Education and Modern Languages
Master of Education (MEd.) – School of Education and Modern Languages
Master of Science (Educational Management) – School of Education and Modern Languages
Master of Science (Information Technology) – School of ComputingMaster of Science (Counseling) – School of Applied Psychology, Social Work and Policy
Master of Science (Principalship)- School of Education and Modern LanguagesMaster of Science (Decision Science) – School of Quantitative Science
Master of Science (Multimedia Studies) – School of Multimedia Technology & Communication
Master of Science (Managerial Communication) – School of Multimedia Technology & Communication
Master of Science (Multimedia Journalism) – School of Multimedia Technology & Communication
Master of Arts (Communication) – School of Multimedia Technology & Communication
Master of Arts (History) – School of Languages, Philosophy and Civilisation
Master of Arts (Islamic Studies) – School of Languages, Philosophy and Civilisation
Master of Arts (Psychology) – School of Applied Psychology, Social Work and Policy
Master of Arts (Social Work) – School of Applied Psychology, Social Work and Policy
Master of Science (Mathematic) – School of Quantitative Sciences
Master of Science (Intelligent System) – School of Computing
Master of Science (Media Management) – School of Multimedia Technology & Communication
Master of Science (Multimedia Studies) – School of Multimedia Technology & Communication
Master of Science (Technopreneurship) – School of Computing
Master of Science (Statistic) – School of Quantitative Sciences